Voice Over Studio in Serbia
Alex´s personal voice over studio is equipped with high quality voice over microphones and preamps. Alex continually upgrading studio equipment and improving his home recording studio in Belgrade to provide the cleanest, richest sound for quality voice-overs production ( narration, dubbing, commercials ).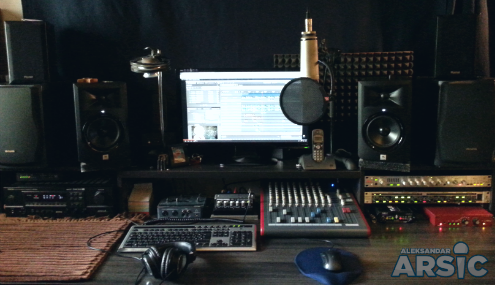 From personal voice over studio Alex can deliver dry recordings ready for you to produce. Below, you will find a list of the professional equipment used in his voice recording studio in Serbia.
Professional Voice Over Studio Equipment
CAD E100S

– perfect VO mic, made in USA side-address, large-diaphragm FET condenser with a nickel-plated 1 inch capsule, an 80 Hz hi-pass filter and a 10 dB pad.

Sennheiser MKH 416 shotgun

( Pro Voice Talent Artists use this for Movie Trailer Voice-Overs and anything else when they need a microphone to cut-through the mix)

SHURE SM 7 B

( large diaphragm dynamic microphone with a smooth, flat, frequency response designed primarily for speech and voice-over work where it has become the industry standard )

SENNHEISER MK4 –

made in Germany, fine resolution and outstanding sound quality

RODE NT 1000 MIC

– ultra-low noise mic with a big sound. Ideal for broadcast projects. It sounds great with no EQ required and cuts right through a mix.

RODE NT 1 A

– is one of the world's quietest microphones

AUDIO TEHNICA AT2020

– microphone offers studio-quality articulation and intelligibility, perfect for podcasting, and voiceover use.

EMU 1212 M

– 24-bit/192kHz converters ( the same A/D converters used in Digidesign's flagship Pro Tools HD 192 I/O interface),

ALLEN & HEATH ZED 12 FX

– Multipurpose mixer with FX for live and studio recording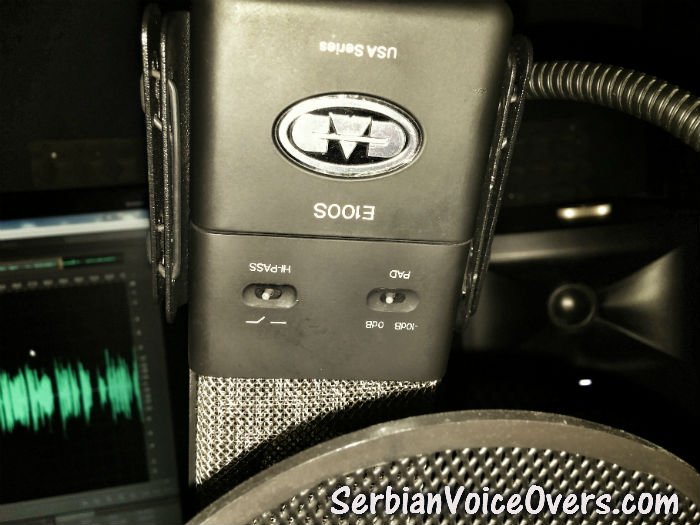 GOLDEN AGE PROJECT PRE-73 MKII

– Vintage Style microphone preamplifier, device is based on the circuitry used in Neve's legendary 1073

UNIVERSAL AUDIO TWIN FINITY 710

– great preamp , the best of tube and solid-state tones

DBX Tube Channel Strip 376

– mic preamp, 3-band parametric EQ,  Compressor, De-esser from the world leader in digital signal processing with digital output capabilities

ADOBE AUDITION CS6

sE ELECTRONIC Dual Pro Mic Pop Screen

– Metal and Fabric

AUDIO-TECHNICA ATH-M50

– Professional Studio Monitor Headphones
STUDIO MONITORS JBL LSR 305


SOUNDPROOF ROOM

HIGH SPEED CABLE INTERNET